Keeping our clients, guests and employees safe and healthy is our top priority. Following guidelines set by the CDC and local government, we have greatly enhanced our safety procedures for the studio … pre, during and post-event.
LA County is currently in the Yellow Tier.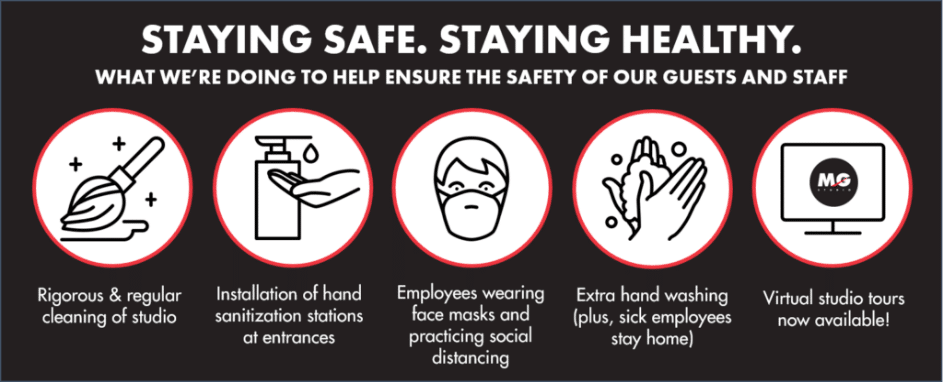 According to LA County guidelines, indoor private events for up to 200 guests may resume if attendees have proof of a negative test or full vaccination. As always, we will continue to be patient and diligent during this time, following all state and county restrictions … but we just can't hide our excitement!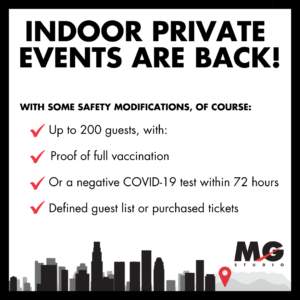 In addition to our regular and rigorous safety protocols, we offer an added layer of disinfecting with our Clorox Total 360 System. The innovative cleaning tool features an electrostatic sprayer that is approved by the EPA to combat COVID-19 and can be applied to any surface in minutes (killing 99.9% of bacteria in five seconds) and lasting up to 24 hours after use. The unique technology allows the solution to quickly cover hard-to-reach areas including the side, underside and backside of surfaces.
Depending on the type of event, the entire studio can be spray-sanitized before and after an event, in about one hour, with spot cleaning available as needed. We have dedicated staff to manage our new COVID-19 safety procedures and who have been trained first-hand by Clorox personnel to operate the system.